CRUISES FOR FAMILIES AND KIDS
The Sea at its most Playful
MSC family cruises are designed for parents and children to enjoy fun times together and quality time separately. That's why we're proud to have built a renowned reputation as a company that knows how to create the best cruises for kids.
Today we continue to deliver on that reputation by paying extra attention to the needs of children, tweens, teens and their parents:
so book your cruise and immerse in a World of Discovery!
Your health and safety will always be our utmost priority. Click here to find out more about our enhanced Health & Safety protocols.
Family Excursions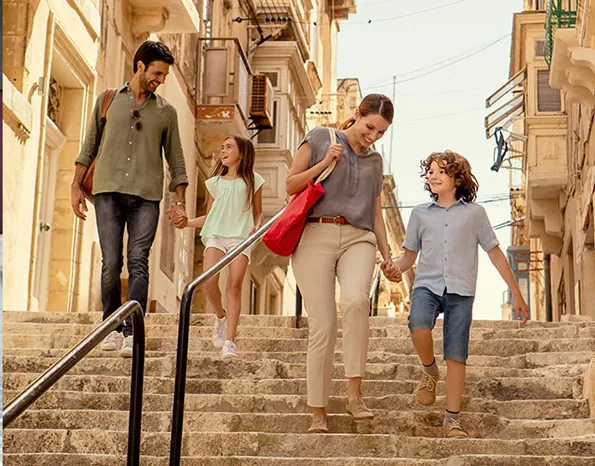 Discover each destination with your children at a rhythm that suits families, thanks to our  Family Fun excursions. Guided by talented, qualified local guides in constant contact with the ship, they are your passport to new cultures, historic monuments, natural beauty and more.
What's more, kids get a special price on shore excursions!
– Babys and Infants aged 2 and younger will be carried free of charge
– Children between the ages of 3 to 13 years have a discount up to 30% vs adult price
Book now and save up to 20% vs onboard prices!
Family Dining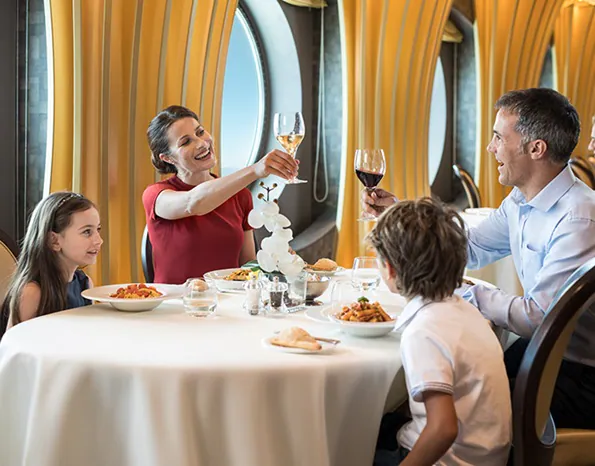 Enjoy a culinary voyage of discovery with your children on an MSC Cruise: an array of international dishes and ethnic specialties will delight the whole family with flavours from around the globe.
For ever-changing menus of high-quality international cuisine, including signature dishes from award-winning chefs, look no further than the main restaurants onboard our ships. If you prefer a casual meal, buffet is open for breakfast, lunch, dinner and late night snacks.
If your kids want to eat with their new friends, our youth staff are happy to look after them. When they're exhausted after a fun-packed day, you can choose to have a meal delivered to your cabin.

Meals in the main restaurants and buffet are included in the cruise fare.
Kids Clubs and Family Activities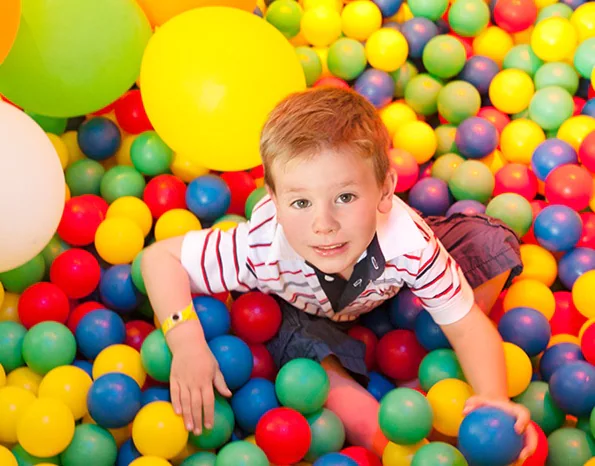 Discover our Entertainment options on board: there's always so much to do that you kids will never get bored! An MSC cruise is an experience for the whole family to enjoy together in the safe, fun environment of our cruise ships.
On an MSC cruise you'll find a wide range of activities both in our dedicated Kids Clubs and on our ships, from sports tournaments and quizzes to the special Doremi family disco.
From the joys of relaxing in a pool or splashing around in an aqua park, to the thrill of riding a swirling waterslide, family fun in the sun is never far away.
Some ships offer the extra adrenaline rush of sliding down a zip-line**, driving a full-size Formula 1 simulator or enjoying a fully immersive VR experience, not to mention the multi-sensory experience of interactive XD cinema and the amazing Video games room.
You can take the kids to a Broadway-style theatre show
Once during every cruise we hold a special entertainment event called the LEGO® Experience On Board*: an entire day dedicated to fun LEGO activities for the whole family to enjoy**
*Available on: all MSC ships
**The Zip Line will temporarily be unavailable on board our ships for cruises in the upcoming months.
Babies and Toddlers Services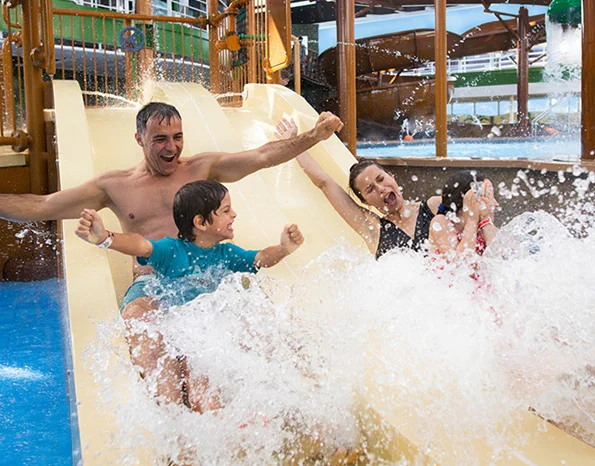 Baby Clubs -Our partnership with leading baby care brand Chicco provides a dedicated play area with facilities for babies and toddlers under 3 years old. You can leave your toddlers with our MSC Babycare staff*, or stay with them and enjoy the special Chicco toys and games. They'll love our music and rhythm activities, designed to awaken their curiosity.Available on: All MSC Ships
Mini Club 3-6 –

The Mini Club welcomes children aged between 3 and 6 years old, bringing them new friends and lots of fun, enriched by the stimulating toys of our partnership with LEGO®. The club offers games, events and activities like Arts & Crafts to free their imagination and make every day special. And the whole family is invited to the Doremi Family Disco!Available on: All MSC Ships

Junior Club 7-11 –
The Junior Club inspires connection and cooperation among 7 to 11-year-olds, through a wide variety of activities. Highlights range from Masterchef at Sea Juniors and Dorebro Sport competitions to our Fire & Ice live video game. Do you like acting, dancing or singing? Enjoy the thrill of filming with the Kelly & Kloe On Board Green Screen Experience!
Available on: All MSC Ships
Young Club 12-14 –

With the Young Club, kids from 12 to 14 years old can dive into a world of discovery, involvement and interaction. Each day holds the promise of new experiences, with a dedicated programme of sport tournaments, hi-tech games and lots of other fun activities. And of course, every day also brings opportunities to make new friends.Available on: All MSC Ships

Teen Club 15-17 –

Teenagers aged from 15 to 17 years old can look forward to having the time of their lives on board. Teen Club activities range from sports and competitions, dance contests and social network games to Wii, Xbox and PS4 tournaments.

With our new YouTube web series Cabin 12006, created with Viacom, your children can follow teenager Markus on his first cruise as it turns into an unexpected adventure!
Also with the Teen disco, the Karaoke, Flash mobs and other themed events, every evening is a party!

Available on: All MSC Ships
Type of service: Included
Parent Time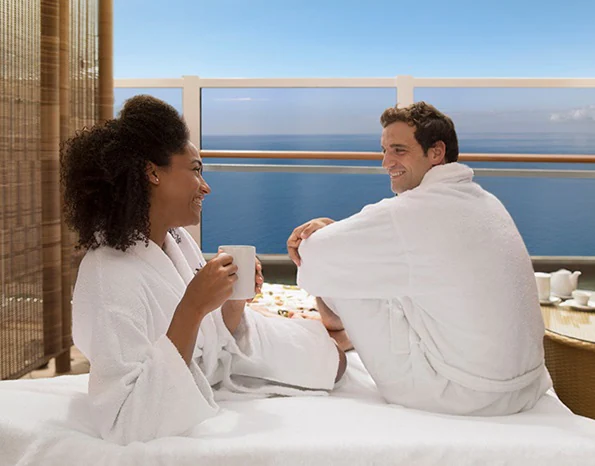 Wind down, lie back, chill out or dress up, and make the most of every marvellous moment.
While your kids are having the time of their lives, safe in the protective world of MSC Cruises, you are free to enjoy all of those things you never quite have time for back home. So wind down, lie back, chill out or dress up, and make the most of every marvellous moment.
Relax with a sensual massage in the authentic Balinese MSC Aurea Spa or work out in the gym
Choose your Entertainment option: you can indulge in some shopping, sip a cocktail or spend a glamorous evening in the onboard casino
Savour a romantic dinner for two while enjoying the sea views
Discover the beautiful MSC Cruises' destinations with a dedicated excursion
LEGO® Experience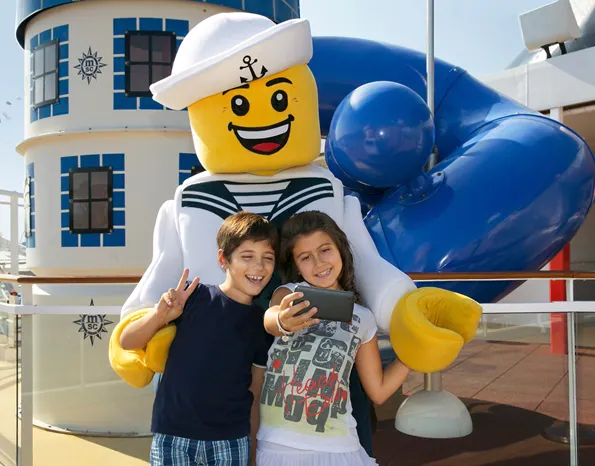 Once during every cruise we hold a special entertainment event called the LEGO® Experience On Board: an entire day dedicated to fun LEGO activities for the whole family to enjoy. Thanks to this special activity your kids can spend hours building and creating  whatever they want!
Available on: all MSC Ships
Type of service: Included
CRUISING WITH MSC AS A FAMILY
Thanks to our 300 years at sea, we know the treasures of the world. And we love exploring them with you.
As the largest cruise line in Europe, we take parents and children to over 200 exciting destinations around the world, including our exclusive
private island Ocean Cay MSC Marine Reserve, located in The Bahamas.
That's why we won "Best Cruise Line for Families" in the Cruise Critic UK Editors' Picks 2019 and "Best Family Cruise Line" at the Wave Awards 2018.