MEMBERSHIP LEVELS AND PRIVILEGES
MEMBERSHIP LEVELS
There are five membership levels to progress through: Welcome, Classic, Silver, Gold and Diamond.
Each time you cruise with us, you will earn points and as your points grow, so do your privileges and status. Don't forget to provide your membership number at the time of booking to ensure you receive your benefits! MSC Voyagers Club membership is subject to a minimum of one cruise every three years. If no cruise has been completed in three years after the enrolment date or your last disembarkation date, your membership will expire. Should your membership expire, you must subscribe again: you will be assigned the Classic status and a new Club identification number. Log-in to your personal area to check out your points and membership expiry date.
Planning to sail with us soon? Click here to find out more about our enhanced Health & Safety measures and our new, even safer onboard experience.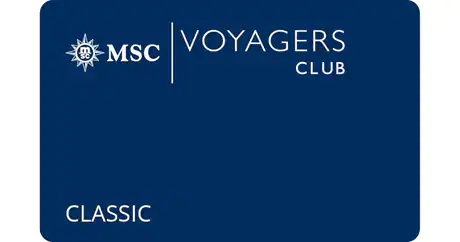 CLASSIC MEMBERSHIP
FROM 1 TO 2.199 POINTS
5% cruise discount valid all year round (Extendable to cabin occupants)
Voyagers Exclusives 5+5% on all departures for bookings made until 6 months before
MSC Voyagers Club e-newsletter
MSC Voyagers Club personalized luggage tags for embarkation in the e-ticket
MSC Voyagers Club card
MSC Voyagers Club online personal area
MSC Ambassador (online poll)
MSC Voyagers Club Infopoint
Welcome back Cocktail Party
Onboard dedicated number
10% off on onboard pictures
5% off on digital accessories
5% off on Wi-Fi packages (Browse Cruise / Browse & Stream Cruise)
50% discount on the F1 simulator
10% off for Thermal Area Cruise Pass
30% off on the fitness package (Body scan and 1h personal trainer to define the training program for the week)
30% off on the second massage
Free personal consultation spa doctor
10% discount on Minibar
MSC Shops discount: For each 50€ spent in any onboard shops you will benefit of 10€ discount, Discount will be applied at the point of sale. Non-cumulative to other promotions available on board. Valid only the first day of your cruise (tobacco and electronics excluded).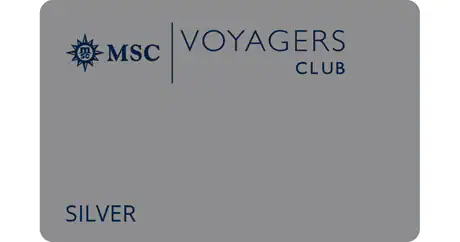 SILVER MEMBERSHIP
FROM 2.200 TO 4.299 POINTS
PRIVILEGES OF PREVIOUS TIER +
Milestone Reward (Tier Upgrade Pin Delivered Onboard)
10% off on digital accessories
5% off on laundry
50€/$ on board credit p.p on all departures for bookings made until 9 months before departure
20% off on onboard pictures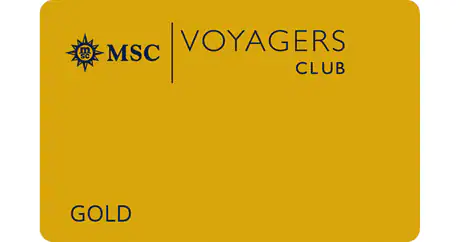 GOLD MEMBERSHIP
FROM 4.300 TO 9.999 POINTS
PRIVILEGES OF PREVIOUS TIER +
Complimentary one-hour thermal area session once per cruise
Complimentary gift
Priority disembarkation in ports where a tender boat is required
MSC Voyagers Club Photo At The Restaurant
Complimentary birthday cake
30% off on onboard pictures
15% off on digital accessories
10% off on Wi-Fi packages (Browse Cruise / Browse & Stream Cruise)
10% off on laundry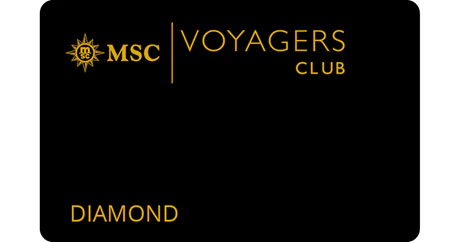 DIAMOND MEMBERSHIP
10.000 POINTS AND MORE
PRIVILEGES OF PREVIOUS TIER +
Priority boarding (extendable to cabin occupants)
Specialty Restaurant dinner (no beverages – members + 1 guest of the same cabin no diamond member)
Spumante with Macarons in cabin (1 per cabin per cruise)
Priority disembarkation at end of cruise (extendable to cabin occupants)
Courtesy towelling bathrobe and slippers available during the cruise
Complimentary dancing class
MSC Voyagers Club exclusive Diamond Party
Sweet Chocolate Gift
Late cabin check-out disembarkation (extendable to cabin occupants)
40% off on onboard pictures
20% off on digital accessories
15% off on laundry