MSC YACHT CLUB:


THE ULTIMATE LUXURY CRUISE EXPERIENCE
MSC YACHT CLUB : A WORLD OF LUXURY, PRIVACY AND EXCLUSIVITY

Feel the finesse/elegance of luxury cruises with MSC Yacht Club, an exclusive haven of refined indulgence.
Surround yourself in unparalleled comfort and personalized service as you embark on an astounding voyage aboard our finest ships.
Discover a world where privacy meets luxury, where every detail is meticulously crafted to exceed your highest expectations.
Savour the sophistication and elegance of luxury cruises from the very first step onboard.
Our dedicated staff will cater to your every need, ensuring that your journey is nothing but sensational.
Welcome to MSC Yacht Club, where every moment is designed to surpass all your desires and create memories that will last a lifetime.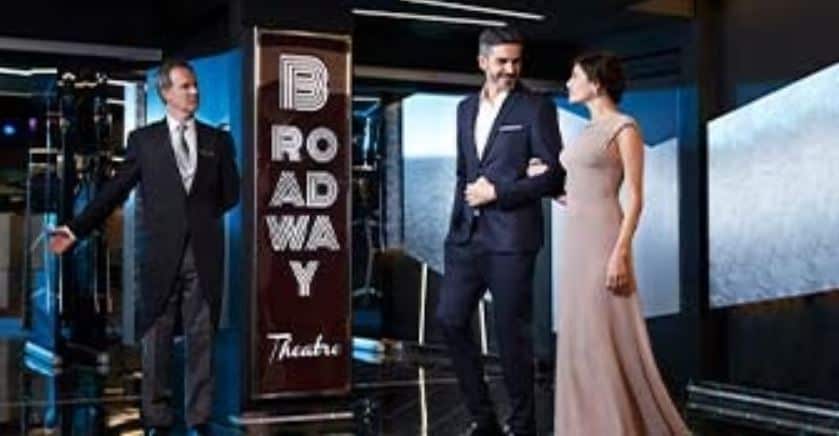 Privileges
✔  Butler service available 24 hours
✔  Dedicated priority check-in and check-out
✔  Room service available 24 hours
✔  Complimentary access to the Thermal Suite in the MSC Aurea SPA
✔  Premium Extra Drink package in all ship areas including the mini bar in your cabin
✔  Premium Extra Drink package in all ship areas including the mini bar in your cabin
✔  Internet package: Browse – 2 devices Unlimited Internet Package
✔  Most rewarding experience for MSC Voyagers Club points
✔  Relaxation amenities in each suite (including bathrobe and slippers)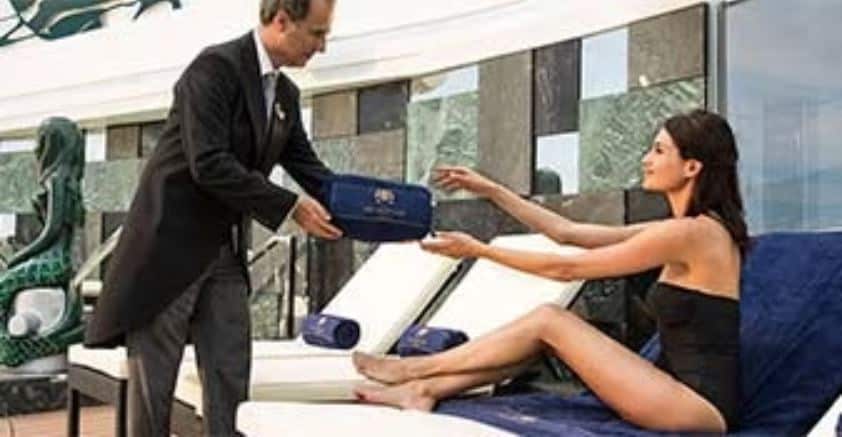 Exclusivity

✔  Lavishly fitted suites offering outstanding comfort located in the foredecks of the ship
✔  Dedicated exclusive Sun Deck with pool, whirlpool, solarium and bar
✔  Possibility to organise exclusive shopping experiences (not included in cruise fare)
✔  Possibility to organise tailor made excursions (not included in cruise fare)
✔  Gourmet dining in the private MSC Yacht Club restaurant. Free choice of dining time during restaurant opening hours
✔  Live music available every night in the Top Sail Lounge
✔  Panoramic Top Sail Lounge with bar, afternoon tea service, light food selection 20 hours per day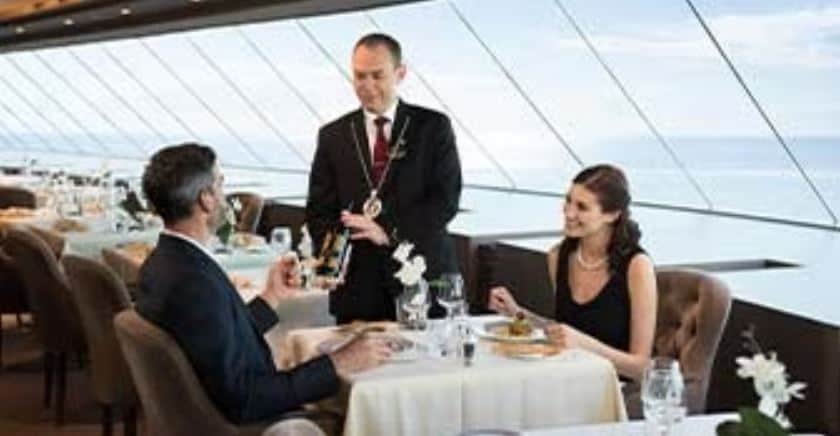 a world of choice*
✔  Balinese massage, exclusive pre-cruise offer available up to 2 days prior to embarkation
✔  **1 free cruise change
✔  10% discount on all spa treatments purchased on board
✔  Specialty restaurants package, exclusive pre-cruise offer available up to 2 days prior to embarkation
✔  Open-air sports facilities
✔  Varied programme of Broadway and Las Vegas-style theatre shows available almost every day
✔  Premium buffet
✔  Well-equipped gym with panoramic view
*Please note that all MSC Yacht Club guests have access also to all ships facilities outside the dedicated area ( such as Speciality Restaurants, Theatre and gym).


Attentive butler service around the clock
Enjoy the exceptional service of your butler, who will attend to your every need and ensure unforgettable moments throughout your exclusive cruise. From personalized recommendations to organize services onboard or ashore, from shoeshine to 3am treats, always with a meticulous attention to detail, your butler is dedicated to enhancing your voyage and creating cherished memories. Indulge in a privileged journey of luxury, where your desires are met with impeccable service.


The Essence of Luxury, Delivered

Immerse yourself in the essence of luxury aboard MSC Yacht Club. With a private lounge, priority check-in, and seamless embarkation and disembarkation, every moment of your private cruise is tailored to provide exclusivity and tranquility. Experience a dedicated sun deck adorned with a pool, whirlpool, solarium, the possibility to organize a tailored shopping session and private excursions and a curated selection of refreshments. Discover a sanctuary of luxury, where privacy and indulgence harmonize.


A Culinary Journey of Exquisite Delights

Embark on a culinary journey like no other within MSC Yacht Club. Delight in gourmet creations and five-star service that will tantalize your taste buds. Our world-class chefs and attentive staff will ensure each meal is an extraordinary experience, where every bite is a moment of pure pleasure. Savor the finest flavors as you indulge in a gastronomic adventure curated exclusively for you during this high end cruise.


Endless Privacy and Pleasures Await

Immerse yourself in a world of endless pleasures and privacy within MSC Yacht Club, where luxury, relaxation, and entertainment converge. Taste our selection of cocktails or other drinks among our offered beverages available in all onboard bars and restaurants. As a guest of The MSC Yacht Club, indulge in exclusive amenities such as the complimentary use of Thermal Suite and MSC Aurea Spa: elevate your luxury cruise experience to unparalleled heights of privilege.
UNRIVALED COMFORT AND EXQUISITE LUXURY
Experience the finest luxury accommodation during your MSC Yacht Club luxury cruise. Discover lavishly appointed suites designed with meticulous attention to detail.
Immerse yourself in the epitome of comfort with luxurious amenities and elegant touches.
From Myform Memory mattresses to Egyptian cotton bedding and mattresses and a Dorelan pillow menu, marble bathrooms to complimentary minibars, your every need is catered to for a truly exceptional luxury cruise.
Live an high end accommodation on our newest ships, featuring innovative options like Interior Suites, Executive and Family Suites, Deluxe Suites, Duplex Suites, and our remarkable Royal Suites and Owner's Suite.
Enjoy exclusivity savoring panoramic views from your private balcony, immersing yourself in a five-stars cruise cabins that brings you closer to the sea while enveloping you in an unparalleled sense of premiumness.
MSC YACHT CLUB DELUXE SUITE
MSC YACHT CLUB DELUXE SUITE
Surface 26 sqm, balcony 5 sqm, deck 14-18
Sitting area with sofa
Spacious wardrobe
Bathroom with shower or bathtub , vanity area with hairdryer
Comfortable double or single beds (on request)
Wifi connection included
Interactive TV, telephone, safe and minibar
ZOE – in-cabin Bluetooth speaker
The image is representative only: displayed cabins from 
MSC Bellissima, MSC Meraviglia and MSC EuribiaSize, layout and furniture may vary (within the same cabin category)
MSC YACHT CLUB ROYAL SUITE
MSC YACHT CLUB ROYAL SUITE
Surface 58 sqm, balcony 39 sqm, deck 15
Balcony with private whirlpool bath and dining table
Separate living area and dining room
Walk-in wardrobes
Bathroom with tub and shower, vanity area with hairdryer
Comfortable double or single beds (on request)
Wifi connection included; ZOE – in-cabin Bluetooth speaker
Interactive TV, telephone, safe and minibar
The image is representative only: displayed cabins from MSC Bellissima, MSC Meraviglia and MSC Euribia
Size, layout and furniture may vary (within the same cabin category)
MSC YACHT CLUB DUPLEX SUITE WITH WHIRLPOOL
MSC YACHT CLUB DELUXE SUITE
Surface 59 sqm with a balcony 23 sqm, deck 9-12
Two-deck-high cabin
Easy access to the Yacht Club areas
Main level
Open living/dining room with sofa that converts to double bed
Bathroom with shower
Second level
Master bedroom with double bed which can be converted into two single beds (on request)
Two walk in wardrobes.
Bathroom with tub
Wifi connection included
Interactive TV, telephone, safe and minibar
ZOE – in-cabin Bluetooth speaker
The image is representative only: displayed cabins from MSC Bellissima, MSC Meraviglia and MSC Euribia
Size, layout and furniture may vary (within the same cabin category)