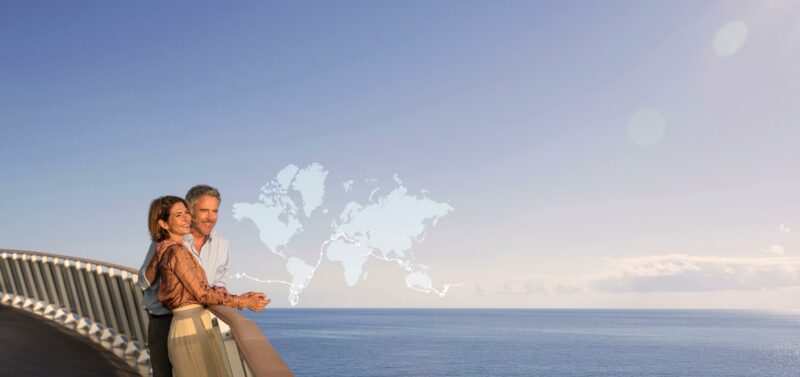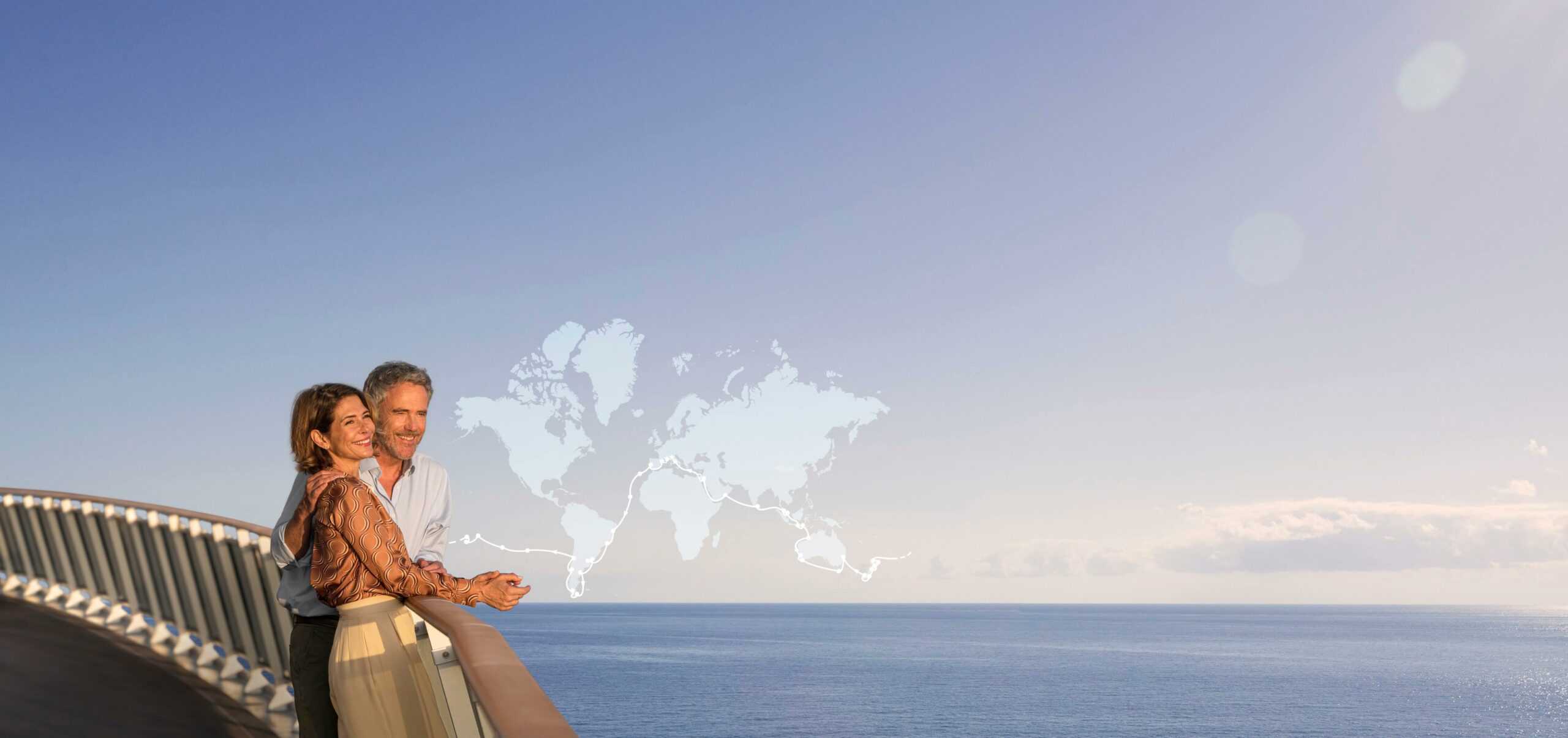 15/02/2023
SET SAIL ON THE JOURNEY OF A LIFETIME: MSC CRUISES OPENS SALES FOR 2025 WORLD CRUISE
Brand new itinerary with 50 stunning destinations across 21 countries to be discovered through an epic 116-night World Cruise
Extended discovery of Australasia with 19 days spent sailing around the Southern and Western coast of Australia – new for World Cruise 2025
Geneva, Switzerland – February 15, 2023 – MSC Cruises today opened sales for the MSC World Cruise 2025 with an entirely new itinerary aboard MSC Magnifica. Voyagers can embark on this unique journey of a lifetime from four European ports – Civitavecchia/Rome, Genoa, Marseille and Barcelona (on 4, 5, 6 and 7 January 2025 respectively).
The 116-night voyage around the world will visit 50 breath-taking destinations in 21 countries, with seven overnight stays, featuring 22 destinations that have never featured on an MSC World Cruise before. The three-month long journey will bring cruisers to five continents, crossing three of the world's largest oceans, sailing over 30,000 nautical miles. Whether it's natural splendour, vibrant cosmopolitan cities or world-famous historical sites, this incredible itinerary will tick off many must-visit places on the bucket-list and will broaden horizons with new tastes and traditions, diverse cultures and communities all whilst delivering authentic global experiences.
The wondrous voyage begins with world-famous cities and ports in Italy, France, and Spain before sailing to Casablanca in Morocco which offers a myriad of markets and medinas. One week into the trip, guests will spend their first days at sea, followed by a day trip to Cape Verde's capital – Mindelo.
After crossing the Atlantic Ocean, guests will spend ten days exploring South America including overnights in Rio de Janeiro, Brazil, Buenos Aires, Argentina and Valparaiso, Chile as well as a visit to the Falkland Islands with its stunning vistas and the most southern point of the continent – Ushuaia.
Following this, the ship then makes its way across the South Pacific Ocean visiting tropical islands for almost two weeks – the world-famous Easter Island (Chile), Moorea (French Polynesia) and Aitutaki and Rarotonga in the Cook Islands.
Then begins an extended discovery of New Zealand and Australia starting with the Northern Islands of New Zealand. This sportive area is a popular destination for big-game fishing and to learn about the indigenous inhabitants of the country – the Maori. In eight days, guests visit the cities of Auckland, Tauranga, Napier, Christchurch and Dunedin, followed by an exceptional cruising of the Milford Sound fjord in southern New Zealand.
Marking the second month of sailing, MSC Magnifica will call in Sydney, Australia and commence one of the highlight legs of the cruise – 19 days sailing around the rugged and beautiful Southern and Western coasts of the country calling at stunning beauty spots, national parks and trendy beach towns.
Guests can visit the natural paradise of Eden, famous for its oysters, food and incredible beaches. Dive into the hip city of Melbourne, enjoy outdoors adventure in Adelaide, Penneshaw, get immersed in the historic city of Albany, explore the vibrant beach town of Busselton and the famous Margaret River wine growing region. Then soak up the laid-back vibes of Perth and marvel at the beautiful town of Broome where outback meets the sea.
Arriving in the lush tropical climate of Asia, the ship will first call port in Benoa on Bali, Indonesia. After an overnight stay, allowing guests plenty of time to explore the islands natural beauty, the backdrop will change entirely as MSC Magnifica sails to the jewel of South-East Asia, Singapore. Here, guests can marvel at futuristic architecture decorated by a mosaic of vertical gardens. To complete the Asian itinerary, guests will visit Port Klang and Penang in Malaysia, followed by the idyllic island of Phuket in Thailand.
During the journey across the Indian Ocean, guests can enjoy a visit to the capital of Sri Lanka, Colombo. Following this, the port of Aqaba in Jordan awaits where guests can visit the world-famous archaeological site of Petra. Next up, travellers can enjoy the beautiful Red Sea resort of Sharm El-Sheik, the ancient sites in Luxor (from the port of Safaga) the transit through the Suez Canal and then on to Alexandria, from where it is possible to visit Cairo and the Pyramids of Giza.
To round up this once-in-a-lifetime itinerary, MSC Magnifica will sail back to Europe, visiting four iconic cities in Italy, ending a trip full of discovery in Genoa.
2025 MSC World Cruise highlights include:
Casablanca, Morocco: This is a vibrant and historic city renowned for its stunning architecture and beautiful beaches. Visitors to Casablanca can explore its many historical landmarks, such as the largest mosque in the world, the Hassan II Mosque, or indulge in the city's famous cuisine which blends traditional Moroccan flavours with French and Spanish influences.
Rio de Janeiro, Brazil: Renowned for its stunning natural beauty, rich cultural heritage, and lively atmosphere, Rio is a city not to be missed on any trip around the world. Guests are granted an overnight stay to allow time for a night filled with fun and dancing to the beat of samba music. During the day, visitors can explore the iconic Christ the Redeemer statue, relax on the famous Copacabana and Ipanema beaches, or take a cable car ride to the top of Sugarloaf Mountain for panoramic views of "The Marvelous City".
Ushuaia, Argentina: The most adventurous destinations of all is Ushuaia, a place known as the southernmost city in the world which is surrounded by the breathtaking beauty of the Tierra del Fuego National Park. Guests can explore the stunning glaciers and fjords of the Beagle Channel, spot whales, and experience the rugged beauty of Patagonia.
Hanga Roa, Chile: Located on the mystical Easter Island, this is a must-visit destination for those looking to experience a unique blend of cultural heritage and natural beauty. A main attraction on the island is the famous Moai sculptures which has become an icon of the island's rich heritage. The mysterious statues which can weigh up to 75 tons have been carved by Rapa Nui people thousands of years ago, captivating visitors from all over the world.
Christchurch, New Zealand: This city is renowned for its beautiful botanic gardens, rich history and its combination of urban regeneration with its ancient heritage. The city is filled with cutting-edge architecture built alongside authentic buildings. Guests can visit the International Antarctic Centre, where they can learn about the region's Antarctic heritage and experience a simulated blizzard.
Milford Sound, New Zealand: With a strengthened focus on New Zealand, the cruise offers eight days to explore seven iconic cities on the island. Milford Sound is perhaps the most unique destination as it takes guests along a breathtaking fjord located on the southwestern coast of New Zealand's South Island. It is renowned for its towering cliffs, pristine waters, and diverse wildlife, including seals, penguins, and dolphins.
Penneshaw, Australia: Out of the nine cities visited in Australia, Penneshaw on Kangaroo Island is the premier nature destination. This charming town with a coastal vibe offers a unique opportunity to discover Australia's famous wildlife, including sightings of kangaroos, koalas, wallabies, sea lions and over 270 species of birds.
Benoa, Indonesia: This bustling port town is located on the southern coast of Bali. Stunning beaches, crystal-clear waters and exciting water-based activities await the guests as they enjoy the island for two days. Those interested in cultural sights can achieve their hearts desire at the traditional Balinese fishing village of Tanjung Benoa while enjoying a refreshing drink.
A dine and drink package is included for all World Cruises passengers.
15 shore excursions are included in the booking price.
30% discount on laundry.
MSC Voyager Club members will benefit from a 5% discount on their booking price. The points gained from the World Cruise will be tripled and added to their account before the start of the voyage, instantly granting them valuable privileges and extras.
To find out more about the MSC World Cruise 2025 and to book, please click here
About MSC Magnifica
Marrying traditional craftsmanship with stylish design, the superb venues on MSC Magnifica spoil travellers for choice during their nearly four-months trip, including 5 gourmet restaurants and 12 designer-themed bars. The ship's award-winning MSC Aurea Spa brings guests traditional Balinese massages and ultramodern beauty treatments. MSC Magnifica adapts to the globe's diverse climate types as she sails around the world with her indoor pool with Magrodome retractable roof, ensuring perfect bathing whatever the weather. During the three ocean crossings, guests need not fear boredom as they enjoy tennis, minigolf, bowling, billiards, a high-tech gym, a dedicated jogging track and entertainment in the 1,200-seat theatre or in the bar lounges around the ship. In every way, MSC Magnifica lives up to her name – she offers a cruise that's memorably magnificent.