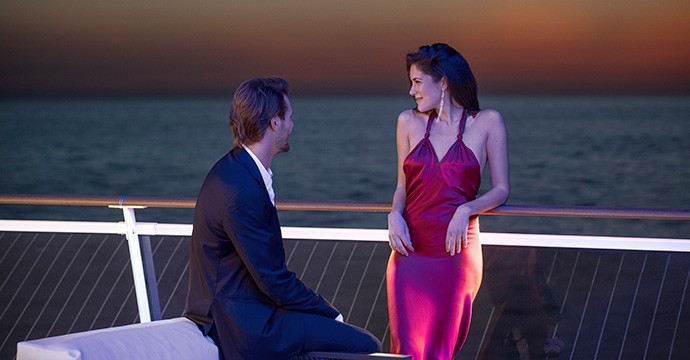 26/01/2023
MSC CRUISES PROMISES ROMANTIC GETAWAYS TO REMEMBER
With 21 ships in the fleet and myriad destinations to choose from, MSC Cruises' guests will have their pick of romantic options on board, from savoury speciality restaurants to a dancing night out – there's something for everyone to enjoy!
Geneva, Switzerland – 26 January 2023: What could be dreamier than a holiday at sea? This Valentine's Day, MSC Cruises' ships are setting the scene for couples to enjoy a romantic escape from daily life. Vibrant sunsets, breath-taking sea views and an ever-changing backdrop of destinations offer endless opportunities for special moments together at sea.
– Sharing experiences and emotions is a way to celebrate with loved ones at any time of the year. Along with waking up each day in a new port, each one whispering of new adventures and locations to explore, guests will also find a host of options and activities on board to meet their preferences:
– For the ultimate getaway, the MSC Yacht Club offers an added touch of sophistication and exclusivity. With 24-hour butler service, a private bar and restaurant, as well as a dedicated pool area and sundeck, any guest will feel like royalty in the MSC Yacht Club.
– Rejuvenate with a couple's massage: The relaxing atmosphere of the MSC Aurea Spa features exotic interiors with precious woods, rich mosaics and aromatic scents, where guests can indulge in a variety of treatments, including a couples massage for shared relaxation.
– Looking for something sweet? On board MSC World Europa and Meraviglia class ships, guests will have their pick of delicious treats, including the possibility to personalise chocolate bars for their loved ones at the Jean-Philippe Maury chocolate shop, adding toppings and designs to their heart's content.
– For a quiet moment and one of the most breath-taking spots to "pop the question," new flagship MSC Seascape's Bridge of Sighs is the definitive location. The glass-bottomed walkway high up on Deck 16 offers uninterrupted sea views at the aft of the ship, which bring guests closer to the sea and give them a front row seat to magnificent sunsets.
– Champagne is the epitome of sophistication and the newly designed, dedicated Champagne Bar on MSC World Europa is ideal for gathering with loved ones and raising their glasses to shared memories. This stylish bar offers a vast array of champagne, prosecco and other bubblies from around the world, accompanied by a mouth-watering selection of caviar and chilled seafood.
– To enjoy an afternoon on the pool deck in style, MSC Seascape's infinity whirlpools are just the place for couples to enjoy a sea day or a great way to unwind as the ship sails on to her next destination.
– For more active guests, they may opt to take part in a free dance class on board. Guests can hold their partners close as they learn to sway and dip to the music, getting them ready for a night out on the dance floor.
– Though MSC Cruises' itineraries are not short on romantic destinations, perhaps none compares to Ocean Cay MSC Marine Reserve, The Bahamas. This former industrial site has been transformed and restored to a lush, tropical oasis, complete with white sandy beaches and a private lagoon with clear, turquoise water.
– To end the day on a high note, guests may opt to bring their dining experience to the next level with a special dinner for two in one of the Fleet's many speciality restaurants. With mood lighting, fine wines, high quality cuts of meat and a delicious chocolate lava cake for dessert, Butcher's Cut is the ideal place to find a quiet corner to dine together.
– And lastly, for couples who want to show their special someone how much they mean to them, guests may even celebrate their wedding or vow renewal on board. Working directly with the Event Manager, guests can plan their big day down to a T, literally and figuratively continuing their journey together. With multiple wedding packages to choose from, guests can select what best suits their style, from the Classic Celebration to the Deluxe Celebration Package, which includes lavish champagne, priority embarkation for the bride and groom, makeup and hairstyling, and more!