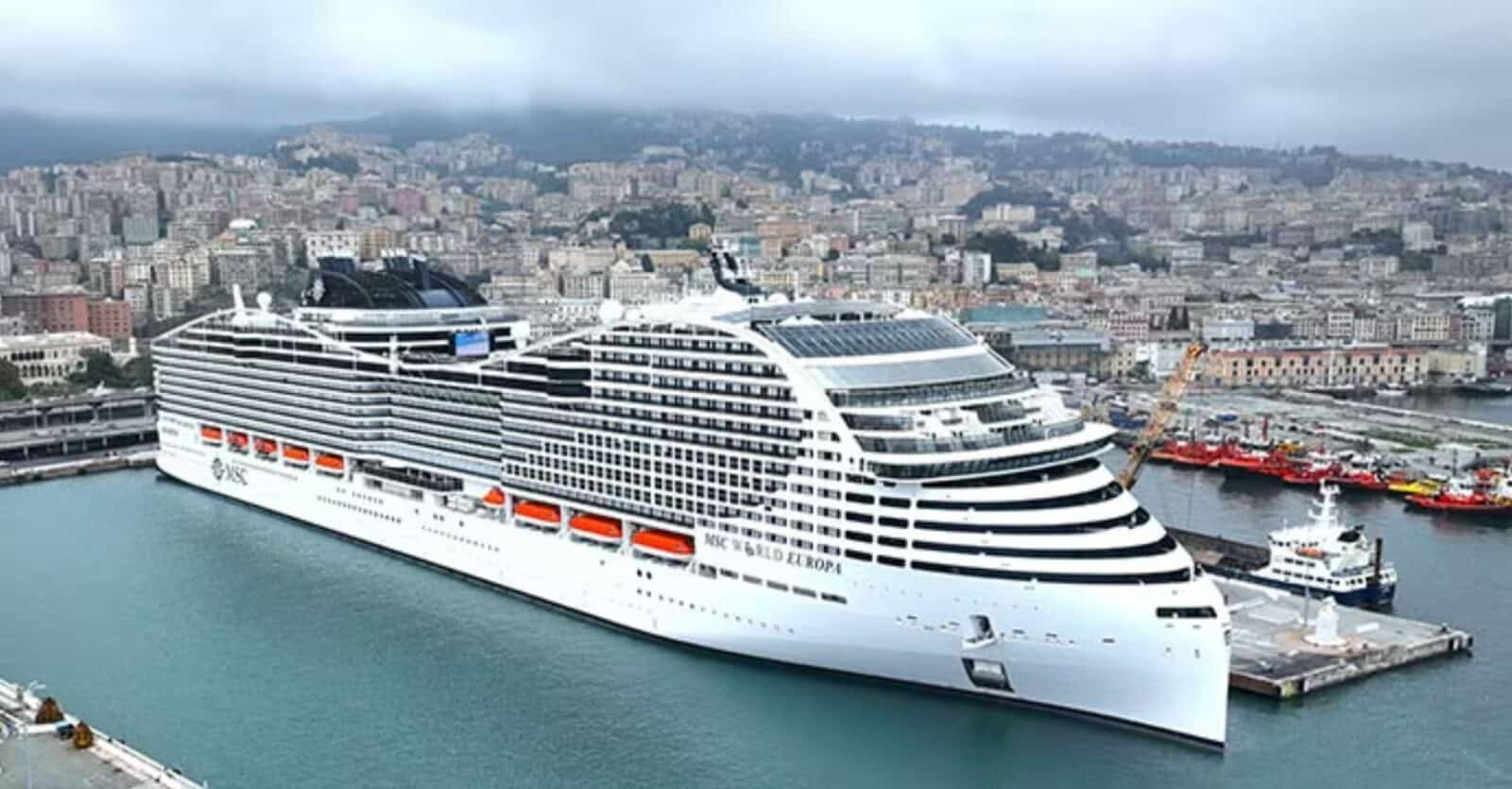 12/04/2023
MSC WORLD EUROPA, THE WORLD'S MOST ENVIRONMENTALLY HIGH-PERFORMING CRUISE SHIP, STARTS SAILING IN THE MEDITERRANEAN
MSC Cruises' first vessel to be powered by liquefied natural gas (LNG) – MSC World Europa – has arrived in Europe after having spent her maiden season in the Arabian Gulf.
As the best performing large cruise ship operating in the world in terms of CO2eq emissions per passenger, MSC World Europa represents a major step forward on MSC Cruises' journey towards achieving net-zero emissions by 2050.
MSC World Europa is also among the first contemporary cruise ships to incorporate fuel cell technology, with trial tests showing very promising results.
MSC World Europa offers 7-night cruises calling the Italian ports of Genoa, Naples and Messina, as well as Valletta in Malta, Barcelona in Spain and Marseille in France.
Geneva, Switzerland, 12 April 2023 – MSC Cruises' innovative new ship – MSC World Europa – has arrived in Europe to commence her first summer season in the Mediterranean. Delivered in October 2022 by French shipbuilder Chantiers de l'Atlantique, MSC World Europa is MSC Cruises' largest vessel and the first to be powered by liquefied natural gas (LNG). MSC World Europa is the best performing large cruise ship operating in the world in terms of CO2eq emissions per passenger*.
The ship will be powered by LNG throughout the summer season, with her first bunkering in Marseille scheduled on 15 April 2023. LNG is the cleanest marine fuel currently available at scale. Compared to standard marine fuels, LNG virtually eliminates local air pollutant emissions – including sulphur oxides and fine particles – and reduces nitrogen oxides by up to 85 per cent.
LNG also plays a key role in climate change mitigation as it offers up to a 20 per cent reduction in greenhouse gas emissions and is paving the way for the uptake of sustainable non-fossil fuels such as bio- and synthetic LNG.
Unique fuel cell technology showing promising results
MSC World Europa is the world's first contemporary cruise ship to feature brand new solid oxide fuel cell (SOFC) technology powered by LNG. The ship includes a 150-kilowatt SOFC demonstrator that uses LNG to produce electricity and heat on board in a highly efficient way by means of an electrochemical reaction.
This could be a key to unlocking significant environmental sustainability gains in the future. Thanks to this increased efficiency, SOFC has the potential to reduce emissions of greenhouse gases substantially compared with a conventional LNG engine without producing emissions of nitrogen oxides, sulphur oxides or fine particles. One great advantage is that not only is the cell compatible with LNG, but also with possible new sources of low carbon fuels such as green methanol, ammonia, liquid hydrogen and bio or synthetic LNG.
Linden Coppell, Vice President of Sustainability & ESG at MSC Cruises, said: "Nearly six months into testing, the fuel cell performance has been excellent, and we haven't seen any signs of safety or maintenance issues. The efficiency to date – measured in terms of the energy we can generate from the same unit of fuel – is well above that of an internal combustion engine and has exceeded our expectations. We have operated the system continually and it has delivered a steady output even better than our forecast 150-kilowatt return. Obviously, this is a small fraction of the energy we need but we are confident that the system can be scaled up on future newbuilds. We recognise that this will requires close collaboration with partners across and outside of our industry, which is why MSC Cruises is actively involved in several different research initiatives and partnerships that all share the common objective of accelerating the transition toward a net-zero future."
A range of other environmental features
MSC World Europa is equipped with shore power plug-in connectivity to reduce carbon emissions in port, as well as with an advanced wastewater treatment system (AWTS) that meets the world's highest regulatory requirements, including the so-called Baltic standard. It treats all wastewater produced onboard to close to tap water standards. The ship also includes a ballast water treatment system that prevents the introduction of invasive species in the marine environment through ballast water discharges, in full compliance with IMO's Ballast Water Management Convention.
The vessel has an entire team of crew dedicated to implementing the strict waste management protocols which separate all wastes into seven distinct types, for example, glass, aluminum and paper, with specialised equipment to crush or bundle these waste types in the ship's waste management facility.
In addition, MSC World Europa features underwater radiated noise management system to minimise disturbance to marine life and a comprehensive range of onboard energy efficient equipment to optimise engine use and hotel energy needs to reduce emissions further. It is also fitted with enhanced automatic data collection systems for remote energy monitoring and advanced analysis, allowing real-time shoreside support to optimise operational efficiency onboard.
Next-generation cruise experience
During this first summer season the Mediterranean, guests on board MSC World Europa will be able to experience the trailblazing ship's extraordinary features and impressive spaces, including the spectacular World Promenade, immersive culinary experiences, next-level entertainment options and the largest, most action-packed kids' area in MSC Cruises' fleet.
About MSC World Europa's Key Features:
THE SPECTACULAR WORLD PROMENADE
The nearly 104-metre-long outdoor World Promenade is one of the ship's most impressive spaces. Day or night, this is the place to be for entertainment, stunning sea views and The Venom Drop @ The Spiral, a striking architectural masterpiece and the longest dry slide at sea with its 11-deck drop. The World Promenade is connected to the World Galleria, which spans 2,214m2 and is crowned by an awe-inspiring LED and kinetic dome ceiling. The World Promenade is the perfect place to shop, dine and relax with a drink.
IMMERSIVE CULINARY EXPERIENCES
MSC World Europa will take guests on a gastronomic journey around the world with a choice of 20 bars and lounges, and 13 dining venues — each with its own distinct style and ambiance. This includes six specialty restaurants and seven brand new bar and café concepts.
Chef's Garden Kitchen is a first-of-its-kind collaboration for MSC Cruises with Michelin-starred chef, TV personality and author Niklas Ekstedt focusing on natural ingredients and a farm-to-ocean ethos. This new restaurant features the first-at-sea hydroponic garden where guests will be treated to a uniquely immersive experience, with the master chef preparing Ekstedt's extraordinary creations in an open kitchen against a backdrop of panoramic sea views.
The line's first onboard microbrewery in partnership with Teo Musso, the founder and brewmaster of Italian craft and farm brewery Birra Baladin.
NEXT-LEVEL ENTERTAINMENT OPTIONS
Guests of all ages will be able to enjoy awe-inspiring entertainment from morning to night, including three new concert-style shows in the multipurpose Luna Park Arena, five new full-scale theatre productions in the World Theatre, four themed experiences in the Panorama Lounge, and pop-up live shows throughout the ship.
THE LARGEST, MOST ACTION-PACKED KIDS' AREA IN MSC CRUISES' FLEET
MSC World Europa's children's area will be the largest in the fleet, with over 766m2 of interior space and seven rooms dedicated to various age groups from 0 to 17 years old, developed in collaboration with LEGO® and Chicco®. Entertainment for children and teenagers will be even more varied with new and original game and talent show formats across high-tech venues.
ULTIMATE LEISURE AND WELLNESS FACILITIES
With seven swimming pools and 13 whirlpools located in distinct parts of the ship, there is one to suit every type of traveler, whether the aim is to relax and unwind or enjoy thrills and adventure.
ELEGANT AND EXCLUSIVE MSC YACHT CLUB FOR PREMIUM CRUISING
MSC World Europa will feature the most luxurious MSC Yacht Club yet, offering unparalleled levels of comfort with more public space, expanded outdoor areas, and stylish new suites. The enhanced public spaces include a totally reimagined sundeck set over two decks for the first time, while two brand-new ultra-spacious Owner-Suites join the 'ship within a ship' concept with its key-card access exclusivity.
INNOVATIVE NEW ACCOMMODATIONS
MSC World Europa is as different on the inside as she is on the outside, with all-new cabin designs and the most balcony cabins on any ship in the fleet. From luxurious suites with private facilities in the MSC Yacht Club to brand-new cabins overlooking the outdoor promenade and Infinite Ocean View staterooms with panoramic sliding windows that open to form a glass balustrade, there are high-quality, comfortable accommodations to satisfy every taste.
MSC World Europa will welcome guests for the summer season in the Mediterranean Sea, giving guests the ultimate Mediterranean cruise experience on 7-night itineraries calling at the Italian ports of Genoa, Naples and Messina, as well as Valletta in Malta, Barcelona in Spain and Marseille in France.
*Based on EEDI index in grams of CO2 per nautical miles and gross tonnage.