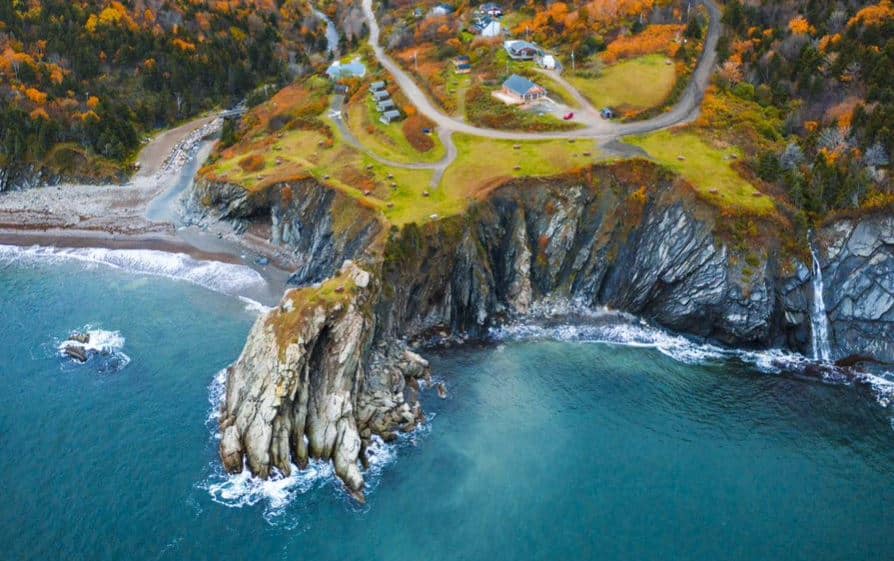 06/07/2023
SIX REASONS TO SAIL THIS AUTUMN ON MSC MERAVIGLIA FOR THE ULTIMATE GETAWAY TO NEW ENGLAND AND CANADA
MSC Cruises' autumn programme offers stunning itineraries off the east coast of North America and up to Canada, promising guests a truly unique cruise experience aboard MSC Meraviglia.
MSC Meraviglia is homeporting year-round in New York and will also offer select cruises to New England and Canada in April, May, August and autumn 2024.
London, United Kingdom – July 06, 2023 – MSC Cruises' autumn programme offers stunning itineraries off the east coast of North America and up to Canada, promising guests a truly unique cruise experience aboard MSC Meraviglia. Guests can embark on an unforgettable journey this September and October 2023 for 10-or 11-night cruises sailing from New York to New England and Canada.
New England and Canada are renowned for incredible scenery and autumn is definitely the best time to visit to witness the beautiful changing of the seasons. Whether it's visiting world-famous historical sites, admiring the incredible landscapes and spectacular vibrant hues of autumn leaves or savouring the famed mouth-watering cuisines of the East Coast – these unique itineraries aboard MSC Meraviglia have something to offer for everyone.
While sailing the East Atlantic coast, guests can make the most of MSC Meraviglia's array of exceptional amenities and rich and varied onboard experiences including the ship's wide range of gourmet dining options, world-class entertainment, award-winning facilities for families and children of all ages, luxurious spa and wellness all whilst relaxing in comfortable accommodations to meet all needs.
MSC Meraviglia is homeporting year-round in New York and will also offer select cruises to New England and Canada in April, May, August and autumn 2024.
MSC Meraviglia fall itinerary highlights include:
1. TAKE A BITE OF THE BIG APPLE
MSC Meraviglia's itinerary will set sail from New York City, offering guests the chance to visit the city that never sleeps, full of endless unforgettable experiences. From viewing the iconic Empire State Building and Statue of Liberty, marveling at the dazzling Manhattan skyscrapers, getting lost in the city's lively neighborhoods, visiting world-class museums to a relaxing stroll in Central Park to witness the majestic autumn foliage, this magnificent city is a top destination any time of the year.
2. EXPERIENCE THE ELEGANCE & CHARM OF NEW PORT
New Port, situated On the Southern Coast of Rhode Island, is a charming waterfront town known for its stunning architecture, historic Gilded Age Mansions and beautiful scenic coastal views. The city has a variety of attractions to explore, leaving for memorable experiences including the historic Cliff Walk with a walking trail along the beautiful rocky shoreline, the iconic Newport Mansions, some of the most impressive mansions, once home to America's wealthiest prominent families and the historic Fort Adams State Park offering gorgeous views of New Port Harbor and Narragansett Bay.
3. WALK THROUGH AMERICA'S HISTORY AT BOSTON'S HISTORICAL SITES
Explore Boston, the capital of Massachusetts – a modern and dynamic city full of rich culture and history. Whether viewing the city's cutting-edge architecture or taking a walk through Boston's famous Freedom Trail, lined with historic landmarks including Boston Common, the oldest public park in the United States, there is a plethora of sites to discover. For sports enthusiast, visit the historic Fenway Park, the oldest and most legendary stadium in Major League Baseball and home to the Red Sox.
4. EXPLORE NOVA SCOTIA'S NATURAL BEAUTY
Nova Scotia, Canada, known for its charming fishing villages, beautiful beaches and captivating shorelines, is the perfect destination to experience a taster of Canada's natural beauty. Not to be missed on MSC Meraviglia's itinerary is Halifax, the seaside capital city of Nova Scotia, renowned for its long-standing maritime heritage. Guests can enjoy a stroll on one of world's longest continuous waterfront boardwalks full of fantastic restaurants and a range of cultural attractions, visit the city's impressive historical landmarks including its hilltop citadel dating back to the 18th century or head Southwest of the city to the small fishing village of Peggy's Cove, well-known for its picturesque red and white Peggy Cove Lighthouse, one of the most iconic and popular sites visited in Nova Scotia.
5. VISIT THE GREAT OUTDOORS OF NEW BRUNSWICK
New Brunswick, the beautiful maritime province in Canada, is a must-visit this autumn for outdoor adventures with its striking coastline and lush forests as well as its various wildlife including moose, whales and seals. Guests can explore the charming and historic port city of Saint John, located in the Bay of Fundy, offering a range of attractions for sightseers and nature lovers. Whether it's admiring the beautiful historic streets, going for a hike or bike ride in the beautiful nature trails of Rockwood Park or witnessing the incredible views of the Bay of Fundy, home to some of the highest tides in the world, there's a host of attractions to meet the preferences of all.
6. DISCOVER THE BEST OF PORTLAND'S CULTURAL ATTRACTIONS
The quaint city of Portland, Maine, offers a wealth of cultural attractions and beautiful views of the Atlantic coast. Travelers can explore the city's enchanting lighthouses, historical architecture, varied outdoor activities in the breathtaking nature as well as taste some of the freshest seafood in the country. Some of the city's top attractions include the Old Port District, where guests can take a leisurely walk through the cobblestone streets full of historic buildings, boutiques and excellent restaurants and bars to discover. Art lovers must stop at the Portland Museum of Art featuring an impressive collection of artworks from local and world-famous artists from around the globe. Make sure to take the time to sample the local beer and try out the world-famous Maine lobster.
To find out more about MSC Meraviglia's New England and Canada itineraries, please click here.
About MSC Meraviglia
At 315 metres long and 65 metres tall, with an impressive 19 decks and capacity of up to 5,700 guests, MSC Meraviglia is a holiday destination in its own right-packed with innovative features to provide an unforgettable experience:
• MSC Yacht Club features a ship within a ship, where guests can savour exclusivity and privacy in a world of choice, offering stylish private facilities and accommodation including a panoramic lounge, gourmet restaurant and private pool and sun deck
• 10 different types of cabins to choose from, including solo cabins, popular balcony cabins, and stylish accommodations in the MSC Yacht Club – the premium 'ship within a ship' featuring butler service, along with exclusive restaurant, lounge and pool areas.
• Galleria Meraviglia, a promenade lined with shops, restaurants and bars that stretches more than 90 metres and lined with an impressive LED sky screen.
• 20 bars and 12 restaurants, including the popular Butcher's Cut steakhouse and Kaito Sushi and Teppanyaki.
• Indoor and outdoor pools and hot tubs, together with a water park and ropes course.
• Different theatrical extravaganzas in our 985-seat theatre.
• The extensive MSC Aurea Spa, providing massage therapy, body treatments, facial treatments, and a dedicated thermal area.
• 557 square-metre gym featuring state-of-the-art equipment from Technogym™.
• MSC Kids' Club for children from 0-17 years old, with dedicated areas for babies, toddlers, children and teenagers, plus the Lego® Experience.
To learn more about MSC Meraviglia, click here.