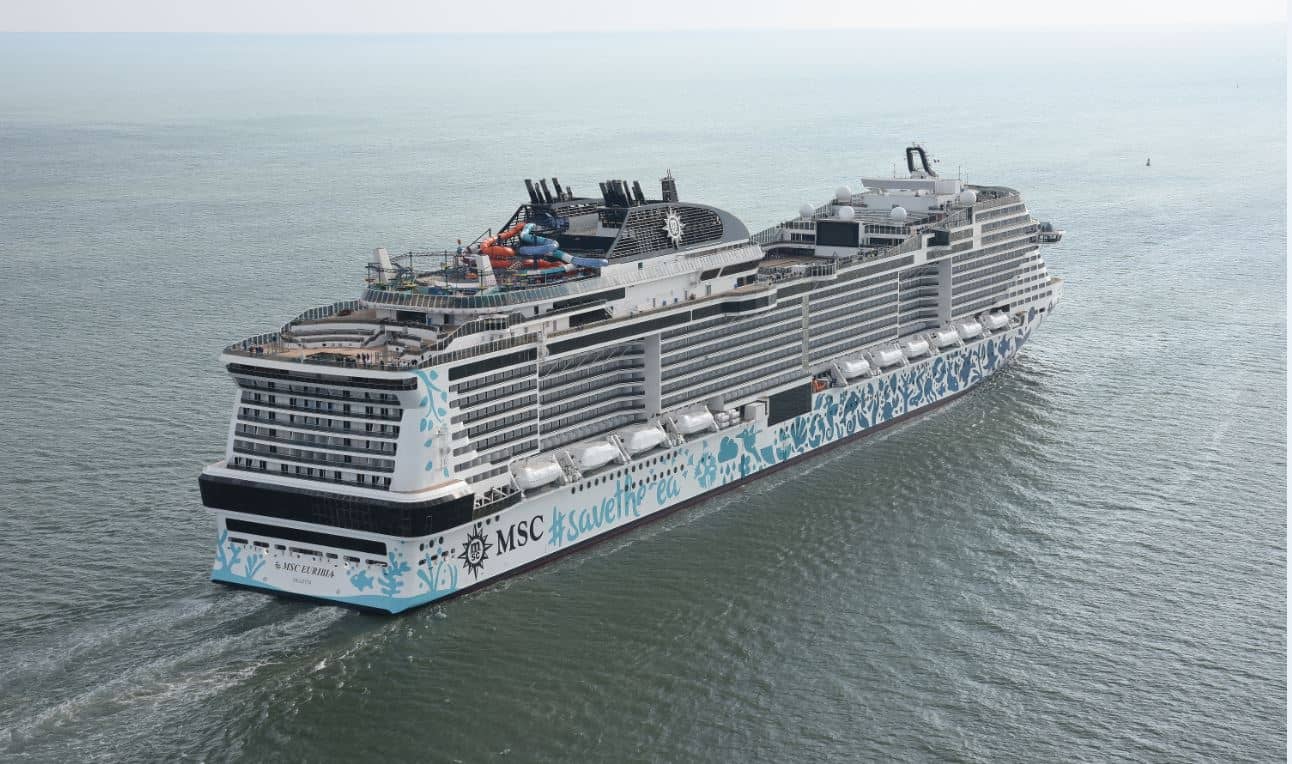 24/04/2023
THE ENVIRONMENTALLY ADVANCED MSC EURIBIA COMPLETES SUCCESSFUL SEA TRIALS
• MSC Cruises' second LNG-powered ship enters final phase of preparation for inaugural season in Northern Europe
• Striking new hull design by German graphic artist Alex Flämig is now complete and ready to be revealed
Geneva, Switzerland and Saint-Nazaire, France –  24 April 2023  MSC Cruises' second liquefied natural gas (LNG)-powered ship MSC Euribia has successfully completed her deep-water intensive systems tests during a four-day trial in the Atlantic Ocean. MSC Cruises' latest flagship will next receive her finishing touches at the Chantiers de l'Atlantique shipyard in Saint Nazaire, France before being officially delivered to MSC Cruises on 31 May.
MSC Euribia will be MSC Cruises' 22nd ship to join its fleet and be able to accommodate up to 6,327 passengers.  The ship will be officially named on 8 June in Copenhagen, Denmark before sailing a maiden inaugural season in Northern Europe from her homeport in Kiel, Germany.
MSC Euribia will feature innovative and advanced marine technology, as well as LNG fuel – one of the world's cleanest marine fuels available at scale – to minimise her environmental footprint. She will also strike a new silhouette with an exclusive customised fresco painted on her exterior that celebrates MSC Cruises' commitment to protect and preserve the marine environment.
STRIKING HULL ARTWORK COMPLETED
Designed by German graphic artist Alex Flämig following an international competition, the recently completed hull artwork aims to stimulate discussion on the importance of protecting the delicate and complex ecosystem of the oceans.
Hull design winner Alex Flämig commented, "To witness my design finally come to life across MSC Euribia's hull is an incredibly proud moment and even more so, to soon have my artwork sailing the world's oceans. I hope it can serve not only as a testament to MSC Cruises' commitment to protecting the important marine ecosystem, but also as an inspiration for those working on finding innovative solutions to safeguard the future of the ocean."
MSC Euribia is named after the ancient goddess Eurybia, who harnessed the winds, weather, and constellations to master the seas, illustrating the vision of the ship to deploy advanced sustainable solutions do the same. Designed with an ocean-inspired colour palette, Flämig's visual masterpiece entitled "#SavetheSea" is a representation of MSC Cruises' ongoing dedication to the sea and commitment to achieve net zero emissions by 2050.
THE ENVIRONMENTALLY ADVANCED MSC EURIBIA
LNG is one of the world's cleanest marine fuels available at scale and is set to play a key role in the transition to the decarbonisation of international shipping. It substantially reduces local air pollutant emissions like sulphur oxides by up to 99 per cent and nitrogen oxides by up to 85 per cent.  LNG also plays a key role in climate change mitigation as it offers up to a 20 per cent reduction in greenhouse gas emissions and is paving the way for the uptake of sustainable non-fossil fuels such as bio- and synthetic LNG.
As bio and synthetic fuels become available, MSC Euribia's emissions will be further reduced. LNG is key to the development of low carbon solutions for shipping as emerging technologies such as fuel cells can be operated with LNG until zero emissions bio-LNG or green hydrogen become available at scale. MSC Cruises is actively involved in several projects to develop and make these technologies viable in partnership with regulators, academia, shipyards and industry.
The ship will also feature shore power plug-in connectivity to reduce carbon emissions in port, the most advanced wastewater treatment systems designed in line with the United Nations' shipping body the International Maritime Organization, comprehensive waste recycling, underwater radiated noise management system to help limit disturbance to marine life and a comprehensive range of onboard energy efficient equipment to optimise engine use and hotel energy needs to further reduce emissions.
MSC Euribia will begin to set sail for her inaugural season in Northern Europe in June, offering 7-night sailings from Kiel, Germany and Copenhagen, Denmark to the captivating Norwegian Fjords including Geiranger, Ålesund, and Flaam.