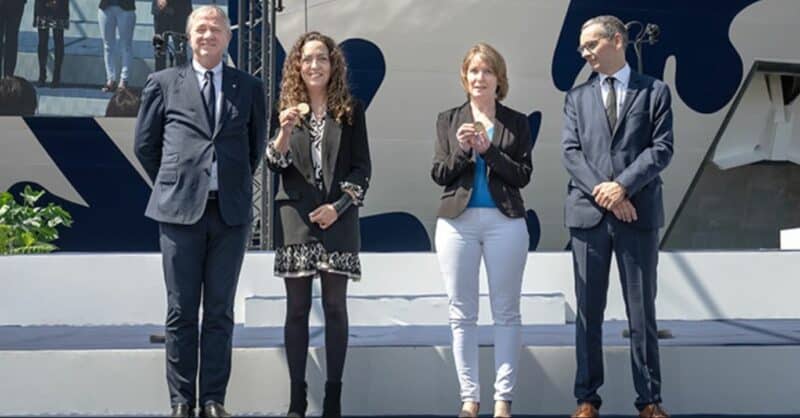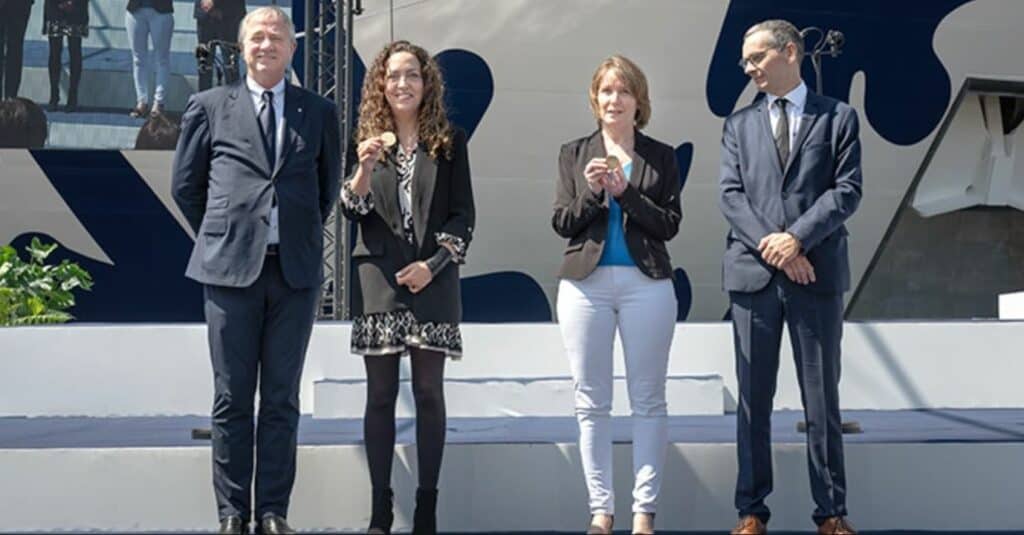 31/05/2023
THE FUTURE OF CRUISING: THE CRUISE DIVISION OF MSC GROUP AND CHANTIERS DE L'ATLANTIQUE DELIVER THE MOST ENERGY EFFICIENT CRUISE SHIP DESIGN EVER FOR MSC EURIBIA
The delivery ceremony of MSC Cruises' latest flagship MSC Euribia took place today at Chantiers de l'Atlantique in Saint-Nazaire, France
The coming into service of MSC Euribia marks another significant step on the Cruise Division's decarbonization journey as she will also be setting sail on the first ever net zero journey for a cruise ship
The ship features a range of technologies and solutions that minimise impact on the air and marine environment, including latest advanced water and waste treatment facilities
The coin ceremony also took place for MSC Cruises' third LNG-powered vessel and second World Class series of vessels MSC World America set to be the next milestone in the Cruise Division's journey towards net zero greenhouse gas emissions by 2050
Saint-Nazaire, 31 May 2023, The Cruise Division of MSC Group and Chantiers de l'Atlantique today celebrated the delivery of MSC Euribia for the Company's MSC Cruises brand, a vessel which features the most energy-efficient cruise ship design ever. The delivery marked yet another significant step on the journey to decarbonise the Cruise Division's fleet and effectively demonstrates what the future of cruising will look like.
MSC Euribia is the final evolution of the popular Meraviglia class and the second ship for MSC Cruises to be powered by LNG, the cleanest and most efficient fuel available currently commercially at scale. Onboard, she boasts a range of best-in-class environmental technology, including advanced onboard wastewater treatment systems and waste management handling. She has also been designed with the future in mind, allowing her to easily incorporate future innovations in sustainability, such as carbon-neutral synthetic and other alternative fuels as soon as they are available at scale.
MSC Euribia is the Future of Cruising today
MSC Euribia represents a leap forward from previous vessels in her class built for the Cruise Division of MSC Group. She delivers even greater efficiencies and is expected to be the best-performing cruise ship in the world, performing beyond the latest IMO Energy Efficiency Design Index requirements. When in service, the vessel emits up to 19% less greenhouse gas emissions per passenger per day than her sisterships which use conventional marine fuels. This amounts to 44% less greenhouse gas (GHG) emissions per passenger per day than ships built only 10 years ago.
Pierfrancesco Vago, Executive Chairman of the Cruise Division of MSC Group, said: "With the delivery of MSC Euribia, we have taken yet another huge step towards our net zero GHG emissions goal. Alongside her many best-in-class environmental innovations, MSC Euribia features a truly groundbreaking energy efficient design that will deliver huge reduction in GHG emissions throughout her lifetime. Often the focus of decarbonization is solely on supply side measures, and although they are an important part of the energy transition, we must not forget the essential role that energy efficiency will play in reducing energy demand today. The cleanest energy is the energy that we don't use and MSC Euribia has been constructed with this principle at its heart. This is why she marks with her coming into service such an important milestone toward our goal of achieving net zero CGH marine operations by 2050."
MSC EURIBIA – Laurent Castaing, Chantiers de l'Atlantique General Manager, said: "I am very proud of the strength of the relationship between MSC Cruises and Chantiers de l'Atlantique. This 5th and last ship of the Meraviglia Class marks the conclusion of what is already a very efficient series and the continuation of our common environmentally innovative projects."
Built for the future – state of the art environmental technology and design
MSC Euribia has been built for the future. Although the vessel can be powered using Liquefied Natural Gas the ship design can accommodate drop-in renewable fuels today and retrofits that will enable MSC's to use renewable fuels not yet available today, such as green methanol.
Further state of the art technology includes advanced water and waste treatment facilities. MSC Euribia has the latest advanced water and waste treatment facilities to help save the seas worldwide.  Wastewater is treated to a very high quality that is of a better standard than many shoreside municipal wastewater treatment systems worldwide. The technology meets the strictest international IMO standards – including the so-called Baltic standard.
Mr Vago added: "It's important to us that our ships being built today are ready to accommodate the new sustainable fuels that are on the horizon. We also want to ensure they can easily be retrofitted with new technology and new efficiencies that will help deliver net zero greenhouse gas emissions. This is a ship truly built with the future in mind."
MSC Euribia's Net Zero Greenhouse Gas Emissions Journey
In an industry first, MSC Euribia will complete a net zero greenhouse gas emissions voyage. The new build, the 22nd ship to join the MSC Cruises' fleet, ship will sail from Saint-Nazaire in France to Copenhagen in Denmark and achieve net zero greenhouse gas (GHG) emissions to demonstrate net zero cruising is possible today.
The net-zero voyage will utilise bio-LNG using a mass-balance system, the most cost effective and environmentally efficient method of delivering the benefits of renewable biogas.  The entire supply-chain will be fully compliant with the EU Renewable Energy Directive (RED II) and each individual batch of the total bio-LNG produced has been certified by the International Sustainability & Carbon Certification (ISCC).
The Cruise Division of MSC Group is committed to achieving net zero GHG emissions from its marine operations by 2050. The emissions intensity of its ship operations has decreased by 33.5% since 2008, and we will achieve a 40% reduction ahead of the IMO 2030 target.
MSC is working with fuel providers and others on deploying drop-in sustainable fuels like advanced biofuels and biogas today. Looking into the future green methanol will likely contribute to our decarbonisation, as will synthetic e-fuels such as green hydrogen and eLNG. Its focus is the development of scalable solutions that can be used universally.
The Coin Ceremony for MSC World America
The coin ceremony for the third LNG-powered ship in MSC Cruises' fleet and first based in the U.S., MSC World America, also took place today as a further step towards creating a world where technology meets innovation for a more sustainable cruise experience. The new ship due in 2025 will feature many of the environmental innovations present on MSC Euribia but with additional ones like pioneering technology to virtually eliminate methane slip from LNG when in operation. The two Godmother's for this traditional ceremony were MSC Cruise Divisions' Silvia Turbia and Chantiers de l'Atlantique's Séverine Blandin.
Henri Doyer, Chantier de l'Atlantique MSC Program Director, commented: "This 19th ship-the second of the World Class series-is the result of a long partnership between MSC Cruises and Chantiers de l'Atlantique. I am thrilled to announce that MSC World Europa, MSC Euribia, and MSC World America are the 3 most energy efficient, most environment-friendly ships of the cruise industry."